Project Management and Tasks
Bitrix24 has extensive organizational features which enhance efficiency at the personal and group levels. Tasks can be defined for oneself or assigned to a colleague, or delegated after being received. Project management features of the product are imbedded in the 'groups'.
Any project can have a dedicated group where all of the files, discussions, and tasks pertaining to that project are stored and accessed only by those users who are relevant to the project. Time spent on each task within the project can be tracked, and tasks are integrated into the group calendar. Furthermore, projects can be created in the Extranet, so clients or partners can participate fully in them.
Fully customizable self hosted editions of Bitrix24 with source code access are available.
Tasks and subtasks can be viewed in a Gantt chart with status, responsible person, and chronological relationships. This gives a full picture of the progression of the project at a single glance, and helps identify potential or existing delays. Once a task is created, it can still be modified directly from the table or Gantt chart.
Bumping up a deadline, adding a subtask, and any other change can be made quickly, with automatic notifications going out to all involved.
Task dependencies, a popular project management tool, are available in all Bitrix24 plans, including the free one. This tool allows you to establish logical relationships between tasks. All four dependency types are supported.
Establishing a dependency is done by simply dragging an arrow from one task to another. Once a dependency is established, moving one task can automatically change start/end dates for other tasks in the project, if so desired. Custom task fields are available as well.
Kanban view is available for tasks and projects (workgroups) as well as inside task planner. True to agile project management approach, Kanban stages are fully customizable and can be set by each user individually.
Kanban boards, cards and lists are available in all Bitrix24 plans without any limitations.
Employee Workload Management in tasks
The employee workload planning in project management let you finish more tasks on time and identify which ones are getting dangerously close to being overdue. Supervisors can allocate how much time should be spent on each task and then track actual time spent completing them. Monthly reports on time spent on tasks for each department and each employee are available.
Task counters help you keep the tasks which require immediate attention in mind. The counter indicates that you or one of your colleagues has a task with some problem or is incompletely assigned (overdue, not evaluated after completion, or no deadline stated, etc.).
Counters and roles simplify supervisors' work, since they can pull up a graphic showing tasks and their statuses for departments, groups, or individual employees.
Add a checklist to a task and follow the progress point-by-point. This is very convenient when a task involves several steps or there are multiple participants.
Participants in the task can add points to the checklist and mark their completion. Now a quick glance is all you need to see the exact status of an ongoing task.
Repeating tasks and task templates help you automate regular chores and recurring work routines. Because task templates in Bitrix24 support subtasks and checklists, they are ideal for repeating business processes, such as hiring/terminating employees, onboarding new clients or starting new projects. Automatic task creation triggered by specific events is available via Bitrix24 visual business process designer.
Tasks can be scheduled to repeat in any time interval (i.e. every day, every week, once every 10 days, every Saturday).
Any combination of employees can be collected into a workgroup which contains all the social networking and organizational tools needed to optimize operations and utilize the highly efficient communications methods available in Bitrix24.
Each group is like a miniature intranet, that not only stores important files and data, but which serves as a platform for discussions, tasks, tracking, and planning.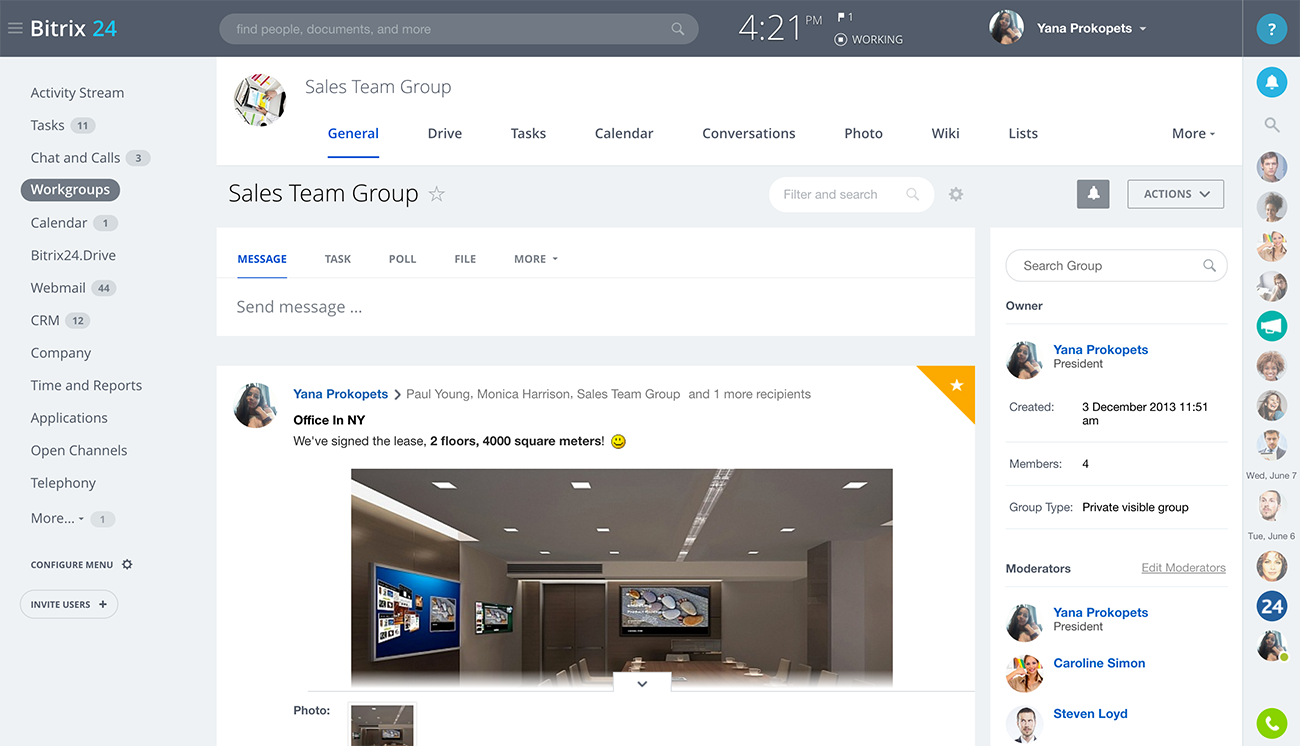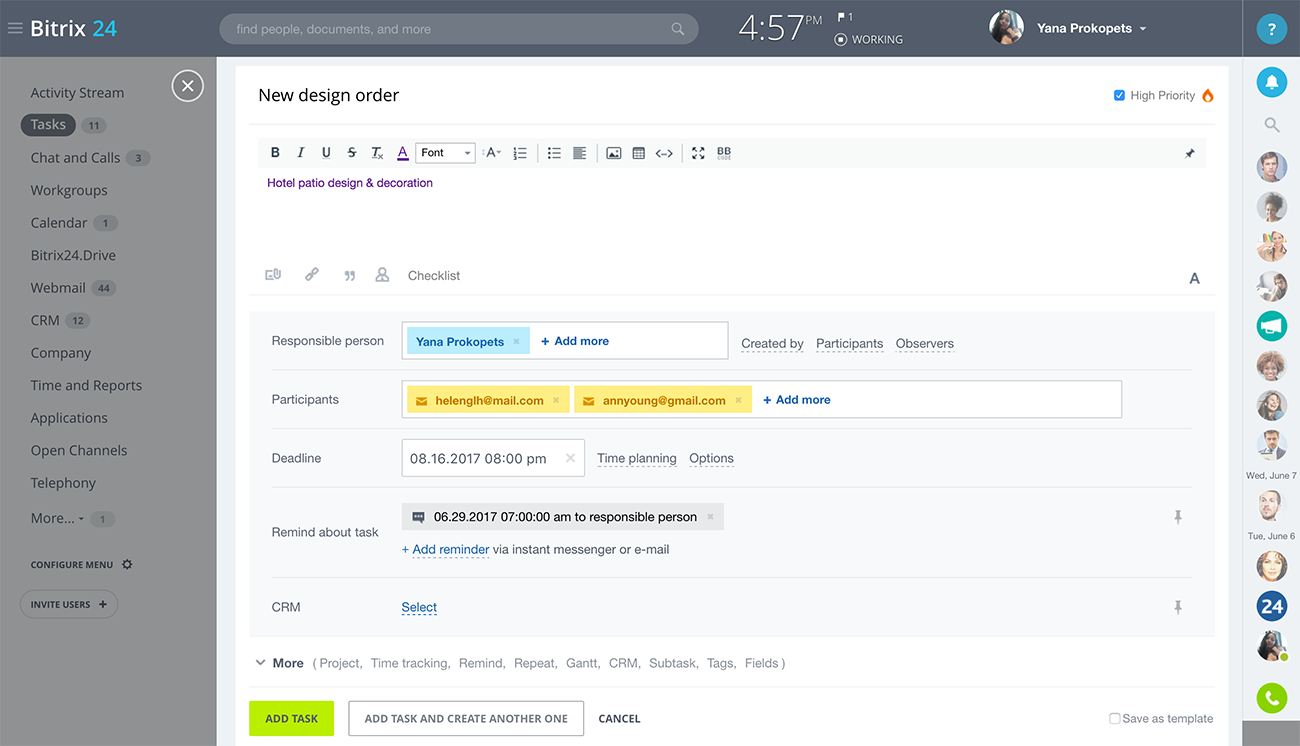 Bitrix24 supports both email-to-task and task-to-email. Users can create tasks by simply forwarding email messages to a special address, available in the profile. Likewise, email recipients can be selected as participants, observers or responsible for task completion. They will receive email notifications any time the task is updated or its status is changed. Email recipients are also able to leave comments to tasks without accessing Bitrix24 account.