You can use Bitrix24 as a free human resources management system (HRMS) for your company. All the core HRMS features – from an employee directory and a self-service portal to leave management and work reports are there, wrapped in a social interface that your workers and HR department will love to use.
Fully customizable self hosted editions of Bitrix24 with source code access are available.
In Bitrix24, people are the center of attention. In the employee directory, you can easily find contact information or filter the list to find the right person for your inquiry. Clicking on an employee in the list navigates to the profile page of that employee. All public information about the employee is visible and there are options to initiate an instant message or leave a comment in the person's blog or photo gallery. Aside from being a popular and convenient tool inside the system, the employee directory allows export to Excel and synchronization with Outlook and CardDAV. Synchronize your contact list with your iPhone, iPad, or Android device and you'll always have the current contact data at your fingertips!
The company structure represents the hierarchy of the organization with departments and sub-departments. You can open up a specific department and determine which employee is the one most relevant to the issue at hand. Subordination in the structure influences many intranet functions: to whom reports are sent, who can delegate tasks to whom, etc. Department heads can see all the tasks of their subordinates.
Want a more engaged and proactive workforce? From self-organizing workgroups to appreciation badges and Company Pulse, there are a number of employee engagement tools that come with your company portal. When your employees log into Bitrix24 for the first time, they will instantly recognize the activity stream and social intranet interface much like what they have grown accustomed to when using Facebook, LinkedIn and other social networks.
The time management system installs discipline in the work schedule without creating a high pressure atmosphere. Clocking in, clocking out, and breaks are transparently recorded, and a convenient planner and daily report keep tasks organized and prioritized. The data input into this gadget is saved and used as the basis of the work report for each employee.
How often do your employees make reports? You can easily set up reporting on a daily, weekly, or monthly basis. Bitrix24 reminds employees to send reports, and the contents of daily planner are helpfully included and can be edited before sending the final report. Plans for the next reporting period can also be submitted through this form. The work report is evaluated by a supervisor and commentary can be added. All work reports of a given employee, department, or the whole company can be viewed with their evaluations and efficiency ratings.
Self Service and Workflow Automation
HR documents and forms are available in a single location, preventing unnecessary trips to HR or the accounting office. Business processes in Bitrix24 let you automate workflows, such as Leave Approvals, Business Trips, General Requests (Internal Helpdesk), Purchase Requests and Expense Reports. These are included in the Activity Stream, don't require setup and are available free of charge. You can modify them, if necessary, or create custom workflows from scratch using visual Business Process designer. Workflows developed by Bitrix24 partners can also be installed from the Marketplace.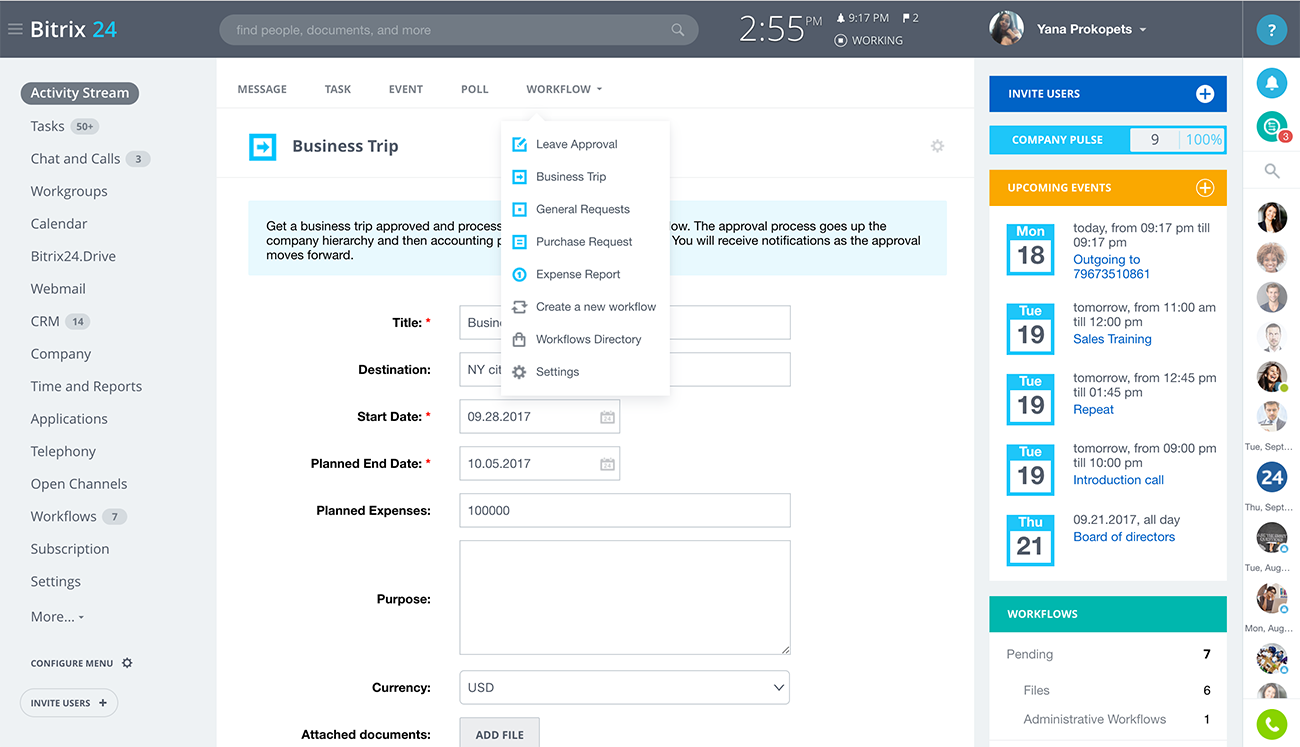 Employees only see that information which they are permitted to see. Permissions can be granted to company departments, workgroups, individual users, or to users assigned to pre-defined roles (moderators, group owners, observers, responsible persons, etc.). Bitrix 24 lets you show or hide workgroups, documents, CRM contacts, and practically any other item in the system. Access permissions also work in search; that is, search results to which a given user does not have access will not show up in the search suggestions or results.
Collaboration in the Extranet
Bitrix24 allows collaborative work not only with coworkers, but also with external users – partners, clients, contractors, etc. Inviting external users is as easy as inviting them to a workgroup, and after they have joined, these third party users are visible in a separate list, so that you can always be aware of who is working in the Extranet.