Bitrix24.Drive for document collaboration
Company drive
Personal and group drives
Multi-user online editing
File syncing
Document sharing
Multi-device online/offline access
Hosted in secure cloud or on your server
24/7 access
Version history/rollback
Undelete
Daily backup
SSL encrypted data transfer
"My Drive" is a centralized access point for all files in Bitrix24 that you want to work with. All your personal files, any Group Drives that you've chosen to connect, as well as shared folders and documents that you've been given access to are conveniently located in a single place.
When you set up Bitrix24.Drive from the desktop app, the synchronization is specifically with "My Drive" and all of its contents. My Drive is a place where you can upload new files or delete existing ones, create new folders, grant permissions to access and sync to coworkers and search for documents using various filters.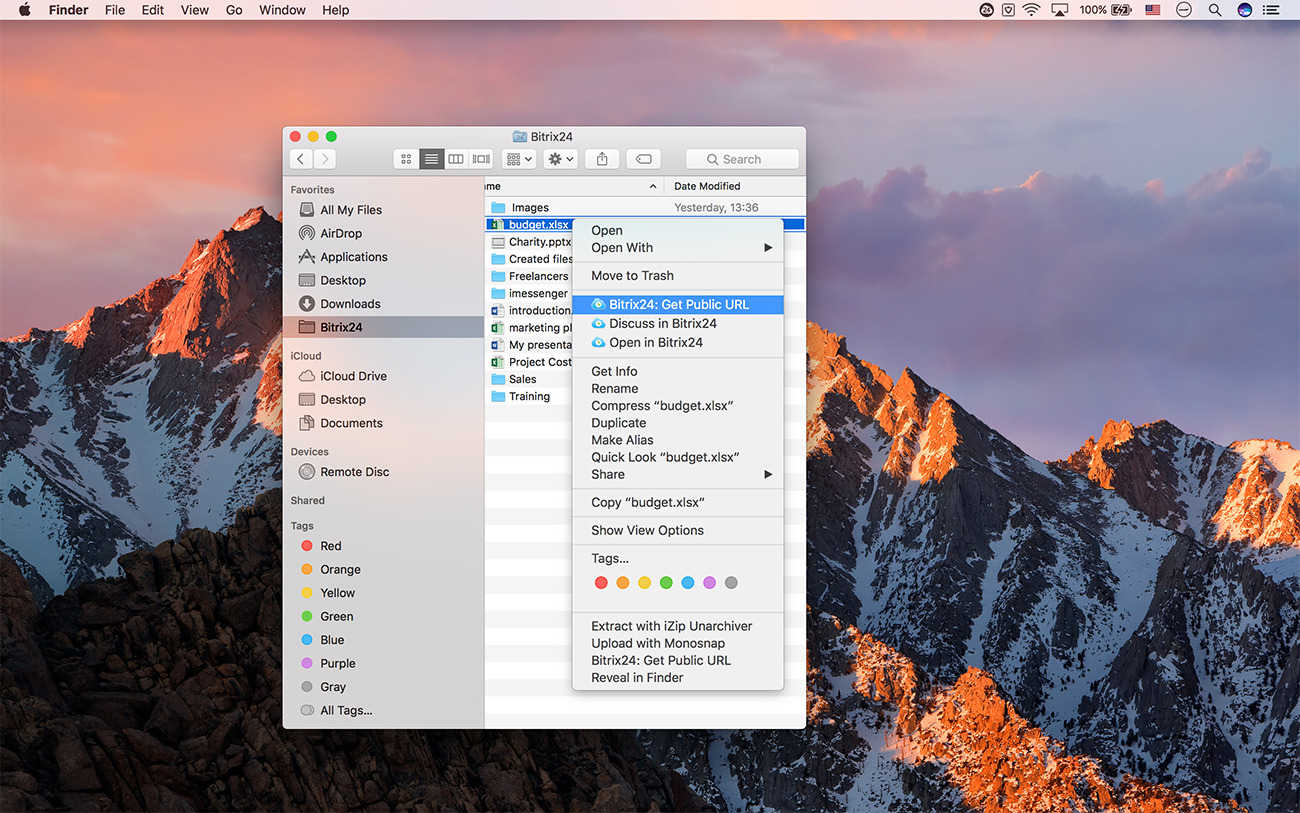 Once you install Bitrix24.Drive on your Windows or Mac computer, you will be able to synchronize selected files and folders stored in the Bitrix24 cloud or the self-hosted version on your PC and the other way around.
The Bitrix24.Drive desktop app integrates with Windows Explorer and Mac Finder, making it possible to view and access files stored on your PC directly from the installed app. Likewise, the desktop app installation adds Bitrix24.Drive to the context menu of Windows Explorer, making it possible to send, share, open and discuss in Bitrix24 any document stored on your PC from your computer.
Bitrix24.Drive in the desktop app shows how much cloud space you are using, how much is used by company files and how much remains available. It also shows a list of recently updated or changed files, including dates and the name of the person who created or edited each document. A synchronization bar is located in the upper right corner of the app, making it easy to see if any files are being currently synchronized.
Floating notifications appear real time each time a new version of a document is uploaded by anyone.
Secure File and Folder Sharing
Still using public file sharing sites and services? Can't access company data stored in employees' private Dropbox accounts?
Bitrix24.Drive lets you share files with anyone inside or outside your company without compromising security thanks to password and time restriction options.
You can also share your files and folders with other employees, workgroups or departments. Bitrix24.Drive can synchronize group and company files to your computer, too.
No PC? No problem. You can always access your files from any mobile device that has Bitrix24 app installed. All popular document formats (XLS, XLSX, DOC, DOCX, PPT, PPTX) are supported, so you can read resumes, view sales reports or study presentations.
Finding files and folders are very easy – just start typing the name in the search box and you'll see the results instantly.
Download Bitrix24.Drive here
5 GB of online storage is already included
No per user charges with unlimited users