Free CRM (Customer Relationship Management)
Customer Relationship Management (CRM software)
The CRM in Bitrix24 provides a platform to organize and track interaction with potential or existing clients, partners, agents and other contacts.
Bitrix24's CRM forms a contact base where the interaction and the history of contacts are managed and stored. All new events (phone calls, messages, meetings) connected with a contact or company are easily logged and further interaction can be planned, including by using integrated tasks.
Fully customizable self hosted editions of Bitrix24 with source code access are available.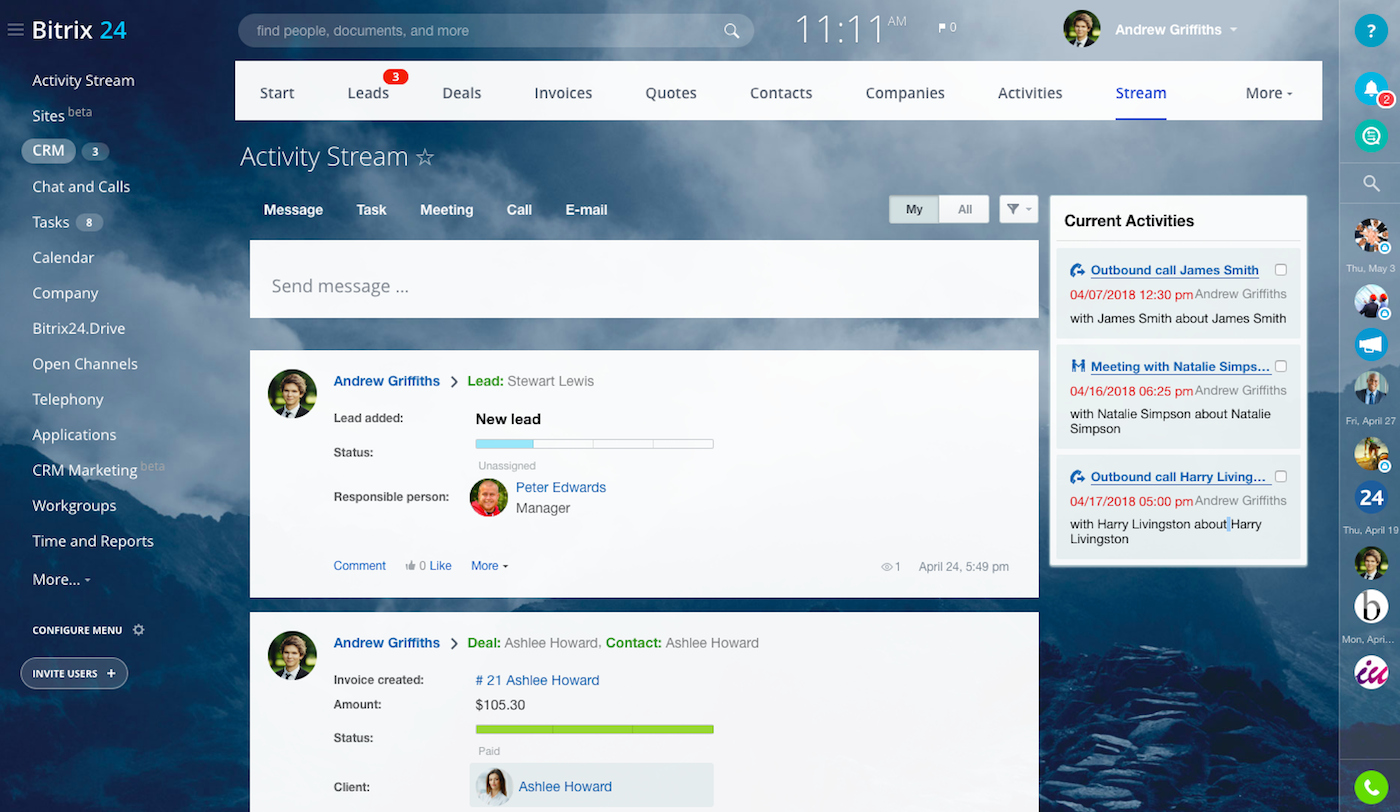 The CRM contains instruments to create reports, import/export contacts, carry out analysis, and to perform segmentation of the target audience as precisely as needed. Incoming contacts or leads can be divided among sales managers, marketing campaigns can be analyzed, and access permission to any deal or lead can be varied depending on its status or other parameters.
The interface in the CRM is convenient and intuitive, and it includes a CRM-only activity stream. This stream is a universal interface that enables actions (notes, emails, tasks, meetings and phone calls) to be initiated on any object or objects in the CRM from a single point. Most importantly, Bitrix24 lets you decide whether to store data in cloud or on your own server.
Reports and Sales Funnels
A quick look at the sales funnel gives an immediate account of transactions in progress and their respective stages. Stages can be added easily and each one appears in a separate line and different color. The length of the line corresponds to the total sum of the deals at that stage, and a table with the numeric values is displayed below the funnel. Importantly, Bitrix24 lets you have unlimited sales pipelines and build multiple sales funnels if you have several product lines or profit centers.
Dashboards in CRM are instant snapshots of the most important sales activities. Each agent can see how many deals they've won, how many clients haven't been invoiced yet, agent's rating in comparison with other sales team members and so on. Dashboards are currently available for deals, leads & invoices and are in the process of being added to all other CRM entities (Contacts, Companies).
Customizable fields
Customizable statuses
Add items from product catalog or manually
Flexible taxes and discounts
Convert quotes to CRM documents (invoices)
Print or email quotes
The CRM in Bitrix24 allows you to create personalized invoices instantly. Client data from the Bitrix24 CRM are automatically inserted into an invoice – just select the appropriate Contact or Lead. Recurring invoices are supported.
Products and services that are included in an invoice can be selected from existing items, or you can create new ones on the fly. When done, you can send the invoice directly from your CRM to the client's email address, save the invoice as a PDF file, and even print it out right from your web browser!
Sales targets can be set directly inside Bitrix24 CRM. This means you can set goals for each of your sales agents, each pipeline, entire company, and track their progress in real time. They can be set in two different ways – either as a number of deals that have to be won for a set period of time, or a minimum required sales volume.
Free web form builder inside Bitrix24 can be used to create any form. Templates for most popular form types are already included. The forms are entirely customizable, including using custom CSS and images, and can be embedded into websites or hosted with Bitrix24 public pages. Bitrix24 forms support field rules (conditional logic), post submit redirects, product catalog and online payments. Information submitted via these forms ends up in Bitrix24 CRM as leads, contacts, companies, deals, quotes or invoices, depending on settings selected.
Not everyone gets "social" yet. That's why Bitrix24 lets you create posts from emails and add email recipients to your posts. Participating in discussion is as easy as replying to an email or clicking "Add Comment" button that takes external users to a special secure web page. To create new post from email, simply forward it to a special address listed in employee profile. No matter which collaboration tool you choose – intranet, extranet or email – everything will be indexed and stored inside your Bitrix24 account. As usual, this option is absolutely free without any limitations.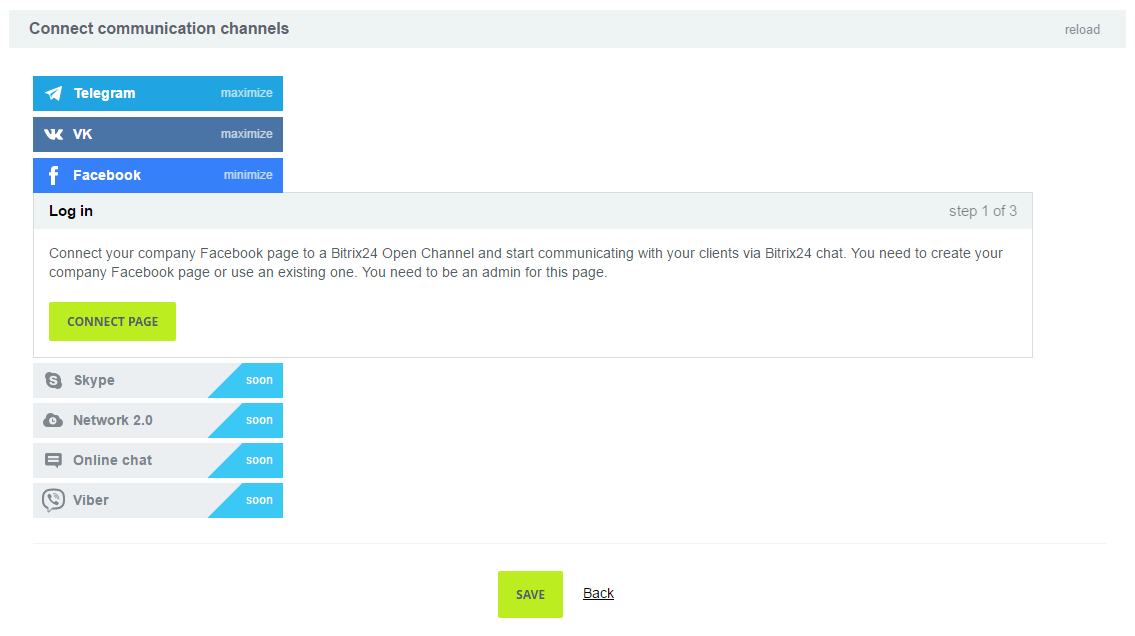 Website and landing page creator
Create free website and landing pages that are linked to your CRM directly from inside your Bitrix24 accounts. Bitrix24.Sites utilize visual block based editor, don't require any HTML coding and come with free templates as well as royalty free HD images. They place nicely with Bitrix24 email and marketing automation tools and we'll give you free hosting with unlimited pages and bandwidth.